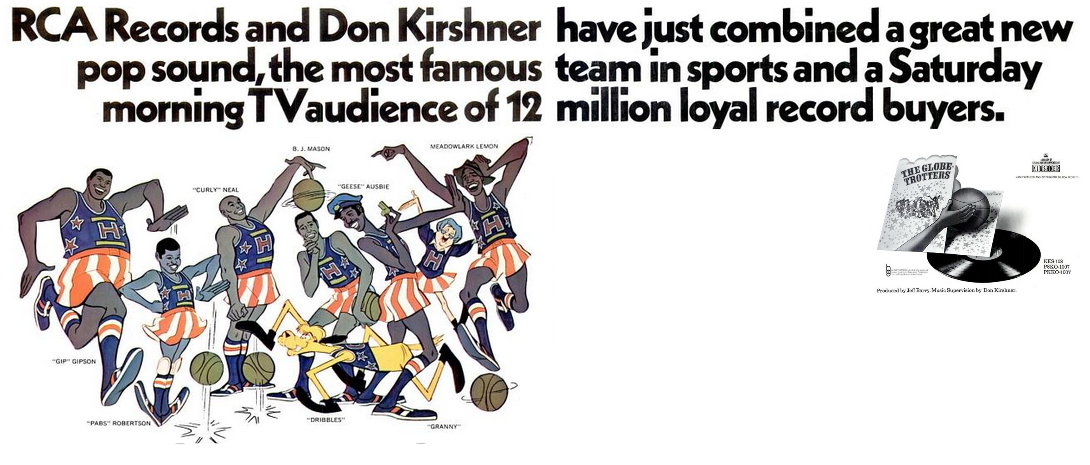 When George "Meadowlark" Lemon passed away at age 83 on December 27, 2015, we lost one of the sporting world's greatest celebrities. After joining the Harlem Globetrotters in 1954, Lemon would spend the next 22 years performing the world over as the "clown prince" of basketball, entertaining fans with his on-court antics and almost unparalleled basketball skills. Lemon later became an actor as well, appearing not only in commercials but on The Ed Sullivan Show, Hello Larry, Diff'rent Strokes, and other programs, usually appearing as himself. Eventually, he would become a featured player on his own Saturday-morning cartoon, The Harlem Globetrotters, as well.
And while, as a rule, REBEAT deals with all forms of entertainment and culture, it's not as a basketball player nor as an actor that I want remember Meadowlark Lemon, but as a singer. I had the good fortune to him interview a few years ago, and we talked about one thing only: his brief recording career.
To understand how Lemon's career as a recording artist came about, it's best to remember the confluence of forces at work that were affecting the direction of pop music in the late '60s and early 1970s. Cartoons had, of course, long been a staple of Saturday mornings. With the rise of made-for-television bands, such as the Monkees and later the Partridge Family, and considering the amount of hit music being turned out by faceless studio groups such as the Ohio Express, the Cuff Links, Edison Lighthouse, Crazy Elephant and others, enterprising network executives took the next step and showcased make-believe television cartoon musical groups using studio musicians and singers. Cartoon groups such as the Archies and Josie and the Pussycats became quite popular, and having artists such as Toni Wine and Ron Dante record a few songs as the Archies was a lot cheaper and less problematic than dealing with the Mike Nesmiths of the world. After the Archies hit #1 in 1969 with "Sugar, Sugar," almost every animated figure on Saturday morning could be seen strumming a guitar or beating a tambourine.
At just about this same time, someone at Hanna-Barbera suggested that a cartoon based on the Harlem Globetrotters might be a good idea. CBS liked the concept as well, so from 1970 to 1972, 22 episodes featured characters based on real Globetrotters "Meadowlark" Lemon, "Curly" Neal, "Geese" Ausbie, "Gip" Gipson, Bobby Joe Mason, and Pablo Robertson, along with several fictional counterparts. In the mold of other cartoons at the time, the "gang" would find themselves up against evildoers but would reign supreme in the end, despite some hilarious misadventures. Also like other cartoons at the time, Hanna-Barbera decided to cash in on the cartoon's popularity by having the characters release an album and a few singles, trying to milk every bit of marketability from the show and targeting the pocketbooks of the parents of those kids watching television on Saturday mornings.
That's where Meadowlark Lemon's career as a recording artist was born. Lemon told me that they "worked on the idea of doing an album for quite some time"  in order to capitalize on the cartoon-characters-as-recording-artist trend, and they finally decided the time was right for the group to make some records and hope they would register with listeners. Music veterans Jeff Barry (who by that point had already co-written "Da Doo Ron Ron," "Then He Kissed Me," "Be My Baby," "Chapel of Love," "Leader of the Pack," and "Sugar, Sugar") and Don Kirshner (who had not only worked with Carole King, Gerry Goffin, Neil Sedaka, Neil Diamond, Paul Simon, and Phil Spector, but had also helped create the Monkees and the Archies) were on board to produce the album.
The album would, of course, need a couple of single releases, and for one of them, Kirshner and Barry chose the Neil Sedaka and Howie Greenfield-penned tune "Rainy Day Bells." Sedaka had recorded the song himself and although it wasn't a hit, everyone felt like it had chart potential. "It had an infectious melody," Lemon explained to me. "It's one of those songs that when you hear it, over and over and over, you begin to like it even more."
So when it was time to cut the single, all they had to do was get the team members into the studio to record it, right?
Not right. Professionals like Kirshner and Barry weren't about to trust their hopes for a hit record on a group of professional basketball players, so they brought in ringers. "They had some great professional studio singers and musicians there to put that thing together, and they — not the team — sang it," Lemon said. The vocalists standing in for the group were Sammy Turner (who had charted with "Lavender Blue" in 1959), J.R. Bailey (formerly a vocalist with the Cadillacs of "Speedo" fame, and also a songwriter later nominated for a Grammy for co-writing the Main Ingredient's "Everybody Plays the Fool"), Robert Spencer (lead vocalist on Crazy Elephant's "Gimme Gimme Good Lovin'"), and Rudy Clark (singer and writer of such hits as Betty Everett's "The Shoop-Shoop Song," the Rascals' "Good Lovin,'" "Got My Mind Set on You" — the song George Harrison would cover and take to #1 — and who was also later nominated for a Grammy for co-writing the Main Ingredient's "Everybody Plays the Fool," among others).
But that was four voices, and a basketball team must be made up of five or more people, so they did allow one team member to sing: Meadowlark Lemon. "Yes, I sing background on the record. Not the best background singer, but I did sing background," he told me, laughing.
With the pedigree of the producers, writers, and singers, it's hard to believe the song wasn't a hit, but it didn't even come close to making the charts. But perhaps the combination of the cartoon backdrop (despite their potential, other than the Archies, none of the subsequently created cartoon groups had been successful on the charts after all) and a doo-wop sound that had faded from popularity a decade before, the well-crafted tune was relegated to chart obscurity.
Oddly enough though, in the ensuing years, the song became popular on the Carolina-beach-music circuit, where it has been one of the genre's most popular tunes for more than four decades. Lemon found that the most surprising thing of all about the song. "It's amazing to me that it's still so big in the Carolinas. Even though Neil Sedaka did the song before we did, his version didn't catch on like ours. Now why, I have no idea. But I realize that our version is still a hit up and down the East Coast. People talk to me about it all the time. It's unbelievable."
Unfortunately, the television show was short lived, and the album wasn't a hit, so Lemon's career as a recording artist was brief and uneventful. But even at that, he told me he often thought about re-recording the song as the lead singer because he was asked about it a lot. "I may call Neil Sedaka and see what he thinks about that, too. Who knows."
That conversation took place almost exactly five years ago, on January 10, 2011, but as far as I know, Meadowlark Lemon never did re-record "Rainy Day Bells." To be honest, it would have been hard to surpass the original, and maybe it's one of those songs that's best left alone. But for all of his accomplishments as an athlete and actor, Lemon was proud of his role (albeit small) in the recording of that song. "When we recorded 'Rainy Day Bells' for the album, I thought it was a nice, catchy little tune, but that's it. I didn't think it would be as popular as it is or do what it's done. But I was always proud of my part in it." As well he should have been.